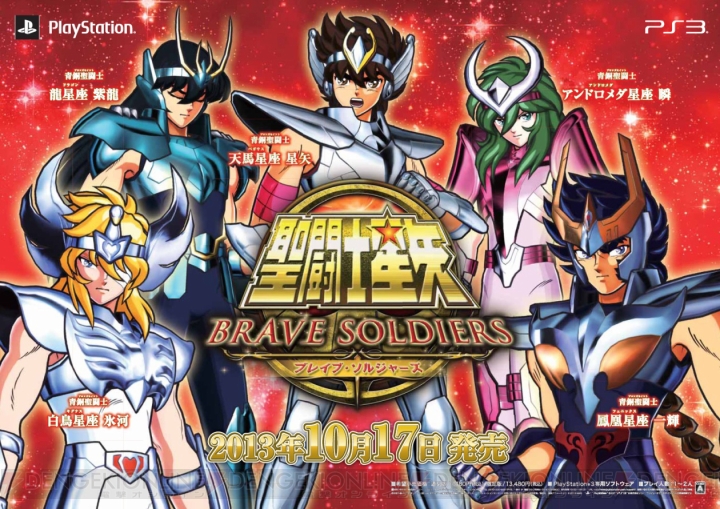 Saint Seiya Brave Soldiers Review
Seiya Fan Grade: B
General Gamer Grade: C
There are great stuff in this game but at the same time a lot of awful stuff. You will have fun but because of lack of characters and content, things will get repetitve. If the developers just put in a bit more effort they would have had something, but they didn't.
Great
Model Renders

The characters and background stay true to the anime.
Original Voice Actors

Many original TV Series Voice actors returned to voice their characters.
Awful
Lack of Characters

Many slots are taken up by the same characters in different costumes. The lack of usual Specters and other Silver Saints is disturbing. What's worst is that in story mode, because the characters Shiryu fought in front of Wailing Wall don't exist. He had to fight Minos which never happened in the actual story. Because God Cloth Shiryu and Hyoga don't exist. There is no VS Hypnos fight for them!
Story Mode Half-Ass

At first you thought the story mode would go great because you saw pics from the actual TV Series but as you play on, you realize they didn't include many important pics. Furthermore, many errors were committed. It's obvious that this was done to save cost.
Big Bang Attack Still Dumbass

Though they improved the Big Bang system a little. It's still doesn't make it an enjoyable experience. You have to connect the Big Bang with a force hit for the Skill to come out. The range of this varies with different characters. Some have large ranges and rushes to the opponent but for some characters even if they are standing right next to the opponent and even if the opponent didn't dodge, the Big Bang still won't connect!
Galaxian Mode Pointless

There is no group fighting mode. All battles are 1 vs 1 regardless of modes. This mode just allows for 8 players to join one tournatment and fight accordingly by order. There's an announcer there to make it like the Galaxian Wars episodes but eventually the anouncer just says the same things again and again.
Online Mode Done Incorrectly

Most online modes where if you have 4 slots for a room, when you have enough people you can choose to fight which other player online that's not fighting, but for some weird reason, even if you have 4 people in a room, they force you to watch the 2 players that are fighting and the two of you that's not fighting can't even choose the other person to fight! If they wanted to allow the option for watching matches, they should have made that option for that, not force people to watch.
New Voices Actors

The voice actors who replaced the original for Bronze Five are still as annoying as hell.
Recommendations
Get the Game if

You want the OCE figure or First Print DLC
You haven't bought the previous games
Don't Get the Game if

You like real VS games
You hate the Big Bang System
Wait to Get the Game if

You have other games to buy
You have bought the previous games
Future Wants
The devotion of Seiya fans are huge yet this company has yet to really repay their devotion. Saint Seiya deserve a game system unique to its own, not forced into another game engine. Commit to making real games! If this company can't do it, partner with one that can.